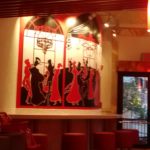 I had a great experience I feel I must share with the world.  Z Burger is amongst other businesses revitalizing the Columbia Heights neighborhood.  Located inside the old Tivoli Theater, it is not only convenient but artistically beautiful.  Z Burger is a great place to get a quick hearty meal and I have not been able to stop talking about it since I left. Who would have thought a hot dog would be at the top my list when I go out? I have always been one to skip the hot dog and just have one here and there at a family cookout. Let me tell you….few cookout hot dogs can top one from Z Burger. It is split right down the middle and grilled to perfection. After it leaves the grill, it is topped with anything you can imagine. I had my hot dog with banana peppers and tomatoes. The secret to this hot dog is the Z Sauce, which tops off anything on the menu just right! Of course, what is a hot dog by itself?
I would recommend a side of onion rings. I must admit, it is a difficult choice between the seasoned fries and onion rings. However, it is hard to find an onion ring that remains an onion ring the entire time you are eating it. Let me explain. How many times have you experienced taking that first bite of your onion ring and find the entire onion is gone with the first bite? You are left with nothing more than a fried ring with no onion. These onion rings actually stay onion rings the whole way through! Everyone must save room for dessert. With their offer of 75 different milkshakes, the possibilities are endless. I tried the Smores milkshake and words cannot describe the relativity to an actual Smores off the campfire. They have managed to retain the fresh, off the campfire roast flavor while delivering a cold, thick, rich, and creamy milkshake. And for those who are lactose intolerant, try the milk-free frozen custard. One word…AMAZING!!
Be sure to check out one of Z Burger's convenient locations. Chances are, you will see me there!
For more information, go to www.zburger.com
Category: Announcements, Food.Fun.Stuff., restaurant reviews, Washington D.C.
---